Country: France
Region: Sancerre, Loire Valley
Pascal Cotat is one of the leading domaines of Sancerre, producing a traditional style of wines aged in oak. Both the vineyards (Les Monts Damnés and La Grande Côte) are located in Chavignol, east of the town of Sancerre. These are wines that can age for decades effortlessly, and that marry a plush richness with a laser-like cut and energy. Production from the 2.5 hectares of vineyards is extremely limited and highly sought after by sommeliers and private collectors.
"They are some of the finest Sauvignon Blancs I have ever put to my lips." Robert Parker.
Cotat Sancerre is simply some of the most singular Sauvignon Blanc in the world, perhaps the truest example of a "vin de garage", Pascal also being the proprietor of the local Peugeot garage in Sancerre. This domaine came to life after the French government ruled in the 1990s that "independent producers" could no longer sell the same wine under two different labels. Pascal's father Francis Cotat and uncle Paul Cotat had been this doing since 1947, sharing the family's vineyards and winery to produce wines that they each sold under their own label. They decided to use this ruling as an opportunity to retire and hand the mantle over to their respective sons Pascal and François, who split up the vineyard holding and started up their own labels from their own wineries.
Vineyards and Viticulture
Located in the western portion of the Sancerre appellation, Chavignol has a unique type of soil called, in French, "terres blanches." The region is essentially a chalk plateau (the same vein as is found in Chablis) with clay and limestone soils. The top vineyards, 'Monts Damnés,' 'Grande Côte,' and 'Les Culs de Beaujeu,' are perched on steep hillsides with little topsoil.
Sancerre Blanc 'Les Monts Damnés'
The Cotat family has tended grapes on the slopes of the Monts Damnés (damned mountains) in Chavignol since the end of World War II. This very steep vineyard, named after the "mountain" (essentially a chalk plateau), is one of Chavignol's finest; subsoils are pure chalk (the "terres blanches," as is found in Chablis) with thin clay and limestone topsoils.
AGE OF VINES: 30+ years
Sancerre Blanc 'La Grande Côte'
Some of Pascal Cotat's oldest vines (60 years and older) are located in 'Grande Cote,' a treasure of a vineyard. The Cotat cousins both own 'La Grande Côte' outright, so consider this plot the family monopole. This just over two-acre vineyard is steeply sloped, faces north, and has clay-rich soils; Sauvignon Blanc here delivers lush, supple flavors with a bracing vein of citrus-inspired acidity.
AGE OF VINES: 60+ years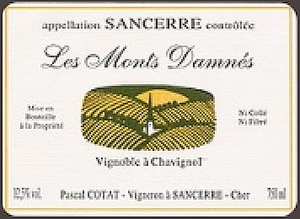 Cotat as a rule harvests by hand and very late, as pushing ripeness to the extreme is one element that gives these wines their weighty texture and complexity. While Cotat is not organically certified, his habits are more or less according to organic principles. He does not treat his vines with pesticides; uses only indigenous yeasts for fermentation; and follows the lunar cycle for racking. Wines are whole bunch pressed before being barrel-fermented in older demi-muids and aged in larger tonneaux. All wines are bottled unfined and unfiltered.