Domaine Chanson Père et Fils
Country: France
Region: Beaune, Burgundy
Domaine Chanson is one of the great historic producers in Burgundy. Founded in 1750, they are one of only six producers in the region still remaining from the 18th century and earlier. Most critical to today, Chanson was purchased by Family Champagne Group Societé Jacques Bollinger in 1999 and has been dramatically restored to once again become one of Burgundy's top estates.
Chanson has extensive holdings of over 111 acres of exclusively Premier and Grand Cru vineyards in the heart of Burgundy. This includes 62 acres of Premier Cru vineyards in the Côte de Beaune, making them one of the leading Premier Cru specialists in the appellation. They produce approximately 17,000 cases of domaine wine per year from their vineyards by farming organically, and harvesting all grapes and vinifying all wines, even for contracted vineyards.
The Chanson estate produces over half of its own fruit requirements and all the Estate owned vineyards are farmed organically. The other grapes are sourced from growers selected according to their commitment to quality in alignment with Chanson's quality Charter. Individual plot selection produces fruit which also remains separate through the fermentation and ageing processes. The soil is ploughed to encourage the vines to extend their roots more deeply and therefore better express the typicity of the Terroir. All the grapes are hand-picked at optimum maturity.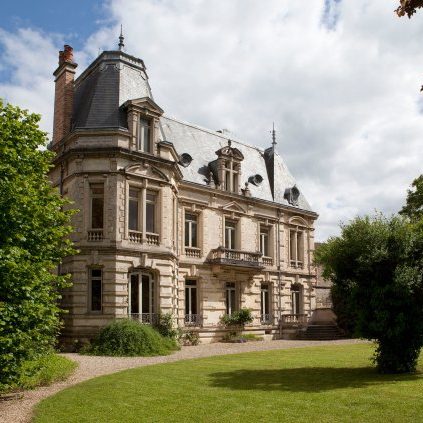 Requiring diligent viticulture and perfect ripeness, they vinify all whites and reds 100% whole cluster at their state of the art facility on the outskirts of Beaune. They use Champagne-style fractional pressing to gently extract the juice, and then age wines in barrel, with no more than 30% new oak for the reds and 20% new oak for the whites.
Aging takes place in the Bastion they own, one of the five massive towers from the 15th-century fortifications that encircle the heart of medieval Beaune. Remarkably, Chanson acquired the Bastion just after the French Revolution.
The thickness of the Bastion's walls (an astonishing 24 feet thick at the base) ensures a constant temperature and level of humidity. The red wines are stored for 18-24 months in oak barrels in the vaulted cellars of the first 3 levels, each one dedicated to a separate vintage. On the 4th level, a huge circular cellar with a gigantic radial structure supported by chestnut beams shelters the white wines during fermentation, vinification and ageing in oak barrels.